STARS award given to Ergonomic Solutions employees for exceptional achievement
Claus Mortensen, our Operations and Supply Chain Manager and Luke Toyer, our Digital Marketing Manager received a STARS Award from us here at Ergonomic Solutions
Claus Mortensen, our Operations and Supply Chain Manager and Luke Toyer, our Digital Marketing Manager received a STARS Award from us here at Ergonomic Solutions.
Claus was awarded for his exceptional achievement in securing the supply of our raw materials, and steel supply for next year in a very uncertain market. Meanwhile, Luke was also awarded due to his exceptional achievement in delivering our brand-new websites for both Ergonomic Solutions and SpacePole Inc.
STARS Awards are in recognition of exceptional performance only and the recipient or team will have to have demonstrated one or more of following:
Exceptional improvements in our products and processes
Exceeded customer expectations
Embraced our core beliefs and provided a positive example to others
Claus and Luke have fully demonstrated exceptional improvements here at Ergonomic Solutions and we congratulate both of them on their well-deserved award.
STARS is our development and sustainability programme, originally introduced to our team in 2008 and the inspiration comes from the award-winning work on change management of Harvard Business School's John Kotter. Kotter's 8-step change management theory is in a simple and fun manner explained in the fable 'Our Iceberg is Melting', which is a story about a penguin colony and how they are dealing with the stress and uncertainty of rapid change and can overcome this.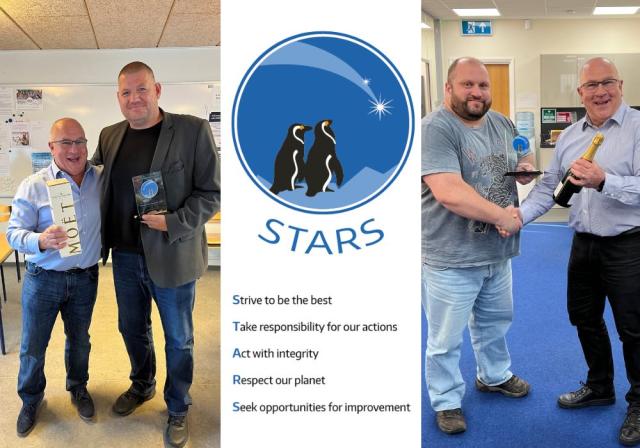 Ian Dewar, CEO of Ergonomic Solutions presents a STARS award to Claus Mortensen (pictured left) and Luke Toyer (pictured right)