TabPOS A-Frame™
Brings tablet POS and a wide range of standalone customer facing applications to life
Self-service and customer engagement
Tablets have found their home in the retail and hospitality industries in particular. Much of this is a result of the flexibility that they offer. Our A-Frame enclosure puts that flexibility into practice. As a standalone device, A-Frame is already hard at work around the world providing a secure mounting solution for customer sign-in and personal data entry. It is equally at home as an information point and providing a platform for those all-important customer surveys.
Tablet Point of Sale
Tablet POS is the new good-looking way to have your point of sale stand out from the rest. Combine your tablet with SpacePole A-Frame and you have a great looking and secure installation. Our mounting solutions enable a second customer facing screen to be added, for those at the till promotions, along with a payment terminal or scanner.
Good looks and effective security, and a focus on hygiene
A-Frame is a fixed tablet enclose securely mounting a wide range of popular tablets. It supports internal cable management, so your device is always charged. Moreover, the cables are neatly hidden away and are not visible from the outside and therefore do not compromise on the very sophisticated look of this tablet mounting solution.
In addition, antimicrobial powder coating is applied, as standard, to all SpacePole® metal products ordered in black. More details on our antimicrobial webpage.
Site it and use it as you wish
Floor, desk and wall mounted options are all available for this most flexible tablet solution.
Counter Mounted
A wide range of counter mounts are available for A-Frame. You can go from simple fixed pole, to tilt and rotate from landscape to portrait mode depending of your use of the solution. A-Frame can also be combined with the stylish integrated TabPrint tablet POS solution.
Floor Stand
A-Frame can be combined with our floor-stand for freestanding applications such as information look up points.
Wall Mount
A-Frame can be securely wall mounted for stand-alone customer facing applications, front of house and digital signage.
Flexible and secure
A-Frame is a versatile stand, which supports a variety of use cases from unattended self-service to fixed tablet POS. It can be used as a fully secured solution for unattended applications and information points along with customer self-service applications. It can also accommodate payment directly on the frame for an integrated space saving POS solution. The options for creating it your way are endless.
Payment mounts
A-Frame allows for mounting payment devices and scanner directly on to the frame utilising payment brackets and our m-case payment terminal sleeves. This helps optimise the counter space and keeps a chic designer look for the complete solution.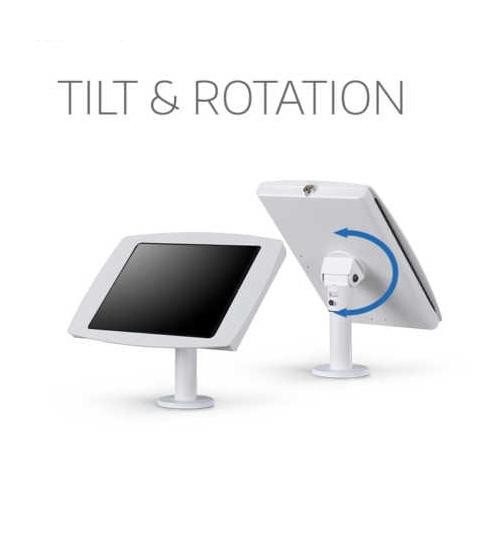 Portrait or landscape mounting
Depending on your application A-Frame can be mounted in either portrait or landscape mode or you can have the flexibility to choose either orientation once mounted.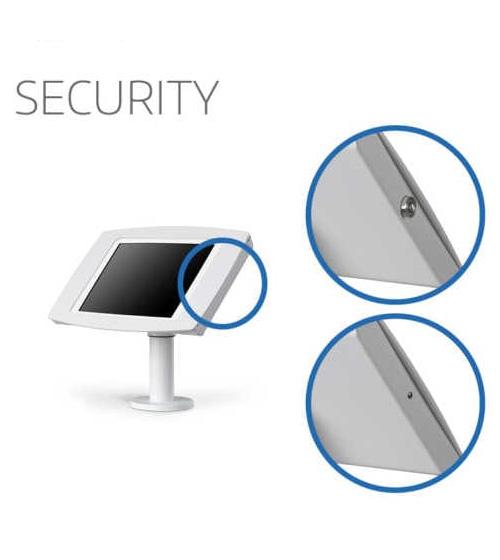 Security
A-Frame offers two discreet locking options; A Kensington push lock with keys or security screw. Choose the push lock for visual security and have the flexibility to easily remove the tablet, or choose the security screw option for a more discreet solution.
Simple assembly
Setting up the A-Frame tablet enclosure is simplicity itself. Simply open the unit and place the tablet inside. The A-frame comes with a metal insert to easily place the tablet in the frame. Close and lock the frame and you are ready for business.
A-Frame Tablet Compatibility
| | | | | |
| --- | --- | --- | --- | --- |
| Apple tablet matrix | Model Number | Year | Size | A-Frame |
| iPad Mini 4 | A2567 (Wi-Fi) A2568 (Wi-Fi + 5G) A2569 (Wi-Fi + 5G | 2015 | 7,9" | SPAF1000/1001 |
| iPad Mini 5 | A2133 (Wi-Fi) A2124 (Wi-Fi + 4G) A2126 (Wi-Fi + 4G) | 2019 | 7,9" | SPAF1000/1001 |
| iPad Mini 6 | A1538 (Wi-Fi) A1550 (Wi-Fi + 4G) | 2021 | 8,3" | SPAF2200/2201 |
| iPad 9,7" (5th Gen) | A1822 (Wi-Fi) A1823 (Wi-Fi + 4G) | 2017 | 9,7" | SPAF3000/3001 |
| iPad 9,7" (6th Gen) | A1893 (Wi-Fi) A1954 (Wi-Fi + 4G | 2018 | 9,7" | SPAF3000/3001 |
| iPad Air 2 | A1566 (Wi-Fi) A1567 (Wi-Fi + 4G) | 2014 | 9,7" | SPAF3000/3001 |
| iPad 10.2" (7th Gen) | A2197 (Wi-Fi) A2200 (Wi-Fi + 4G) A2198 (Wi-Fi + 4G) | 2019 | | SPAF7000/7001 |
| iPad 10.2" (8th Gen) | A2270 (Wi-Fi) A2428 (Wi-Fi + 4G) A2429 (Wi-Fi + 4G) A2430 (Wi-Fi + 4G) | 2020 | 10,2" | SPAF7000/7001 |
| iPad 10.2" (9th Gen) | A2602 (Wi-Fi) A2604 (Wi-Fi + 5G) A2603 (Wi-Fi + 5G) | 2021 | 10,2" | SPAF7000/7001 |
| iPad 10.9" (10th Gen) | A2757 (Wi-Fi + 5G) A2777 (Wi-Fi + 5G) | 2022 | 10,9" | SPAF8000/8001 |
| iPad Air 10.5" (3rd Gen) | A2152 (Wi-Fi) A2123 (Wi-Fi + 4G) A2153 (Wi-Fi + 4G | 2019 | 10,5" | SPAF7000/7001 |
| iPad Pro 10.5" | A1701 (Wi-Fi) A1709 (Wi-Fi + 4G) | 2017 | 10,5" | SPAF7000/7001 |
| iPad Air 10.9" (4th Gen) | A2316 (Wi-Fi) A2324 (Wi-Fi + 4G) A2325 (Wi-Fi + 4G) A2072 (Wi-Fi + 4G) | 2020 | 10,9" | SPAF1800/1801 |
| iPad Air 10.9" (5th Gen) | A2588 (Wi-Fi) A2589 (Wi-Fi + 5G) A2591 (Wi-Fi + 5G) | 2022 | 10,9" | SPAF1800/1801 |
| iPad Pro 11" (1st Gen) | A1980 (Wi-Fi) A2013 (Wi-Fi + 4G) A1934 (Wi-Fi + 4G) | 2018 | 11" | SPAF8000/8001 |
| iPad Pro 11" * (2nd Gen) | A2228 (Wi-Fi) A2068 (Wi-Fi + 4G) A2230 (Wi-Fi + 4G) | 2020 | 11" | SPAF8000/8001 |
| iPad Pro 11" * (3th Gen) | A2377 (Wi-Fi) A2459 (Wi-Fi + 5G) A2301 (Wi-Fi + 5G) | 2021 | 11" | SPAF8000/8001 |
| iPad Pro 11" * (4th Gen) | A2435 (Wi-Fi + 5G) A2761 (Wi-Fi + 5G) A2762 (Wi-Fi + 5G) | 2022 | 11" | SPAF8000/8001 |
| iPad Pro 12.9" (3rd Gen) | A1876 (Wi-Fi) A2014 (Wi-Fi + 4G) A1895 (Wi-Fi + 4G) | 2018 | 12,9" | SPAF5000/5001 |
| iPad Pro 12.9" (4th Gen) | A2229 (Wi-Fi) A2069 (Wi-Fi + 4G) A2232 (Wi-Fi + 4G) | 2020 | 12,9" | SPAF5000/5001 |
| iPad Pro 12.9" (5th Gen) | A2378 (Wi-Fi) A2461 (Wi-Fi + 5G) A2379 (Wi-Fi + 5G) | 2021 | 12,9" | SPAF5000/5001 |
| | | | | |
| --- | --- | --- | --- | --- |
| Samsung tablet matrix | Year | Size | Model | A-Frame |
| Galaxy Tab A 10.1" | 2019 | 10.1" | SM-T510 (Wi-Fi) SM-T515 (LTE) | SPAF9000/9001 |
| Galaxy Tab S4 10.5" | 2018 | 10.5" | SM-T830 (Wi-Fi) SM-T835 (LTE) | SPAF1300/1301 |
| Galaxy Tab S5E 10.5" | 2019 | 10.5" | SM-T720 (Wi-Fi) SM-T725 (LTE) | SPAF1100/1101 |
| Galaxy Tab S6 10.5" | 2019 | 10.5" | SM-T860 (Wi-Fi) SM-T865 (LTE) | SPAF1100/1101 |
| Galaxy Tab S6 Lite 10.4" | 2020 | 10.4" | SM-P610 (Wi-Fi) SM-P615 (LTE) | SPAF1500/1501 |
| Galaxy Tab S7 11" | 2020 | 11" | SM-T870 (Wi-Fi) SM-T875 (LTE) SM-T876B (LTE/5G) | SPAF1700/1701 |
| Galaxy Tab S7+ 12.4" | 2020 | 12.4" | SM-T970 (Wi-Fi) SM-T976B (LTE/5G) | SPAF1600/1601 |
| Galaxy Tab S7+ 12.4" FE | 2021 | 12.4" | SM-T730 (Wi-Fi) SM-T733 SM-T736B (FE 5G) | SPAF1600/1601 |
| Galaxy Tab A7 10.4" | 2020 | 10.4" | SM-T500 (Wi-Fi) SM-T505 (LTE) | SPAF1400/1401 |
| Galaxy Tab A7 LITE 8,7" | 2021 | 8,7" | SM-T220 (Wi-Fi) SM-T225 (LTE) | SPAF2100/2101 |
| Galaxy Tab A8 10.5" | 2021 | 10.5" | SM-X200 (Wi-Fi) SM-X205(LTE) | SPAF2300/2301 |
| Galaxy Tab S8 11" | 2022 | 11" | SM-X700 (Wi-Fi) SM-X706 (5G) | SPAF1700/1701 |
| Galaxy Tab S8+ 12.4" | 2022 | 12.4" | SM-X800 (Wi-Fi) SM-X806 (5G) | SPAF1600/1601 |
| Tablet Model | Tablet Release Year | Tablet Size | A-Frame Model |
| --- | --- | --- | --- |
| Zebra ET50 | | 8" | SPAF4000/SPAF4001 |
| Zebra ET51 | | 8" | SPAF4000/SPAF4001 |
| Zebra ET55 | | 8" | SPAF4000/SPAF4001 |
| Zebra ET56 | | 8" | SPAF4000/SPAF4001 |
| Zebra ET50 | | 10" | SPAF2000/SPAF2001 |
| Zebra ET51 | | 10" | SPAF2000/SPAF2001 |
| Zebra ET55 | | 10" | SPAF2000/SPAF2001 |
| Zebra ET56 | | 10" | SPAF2000/SPAF2001 |