TabPOS C-Frame™
Tablet POS made simple
With a simple and functional design, the C-Frame is an ideal solution for tablet POS.
It is elegant, but still robust. It gives protection to your tablet, but without hiding it and provides the flexibility to give your counter a personal look. Perfect for the specialist retailer, pop-up shop, bar, or restaurant, the C-Frame is a versatile stand-alone point of sale solution for iOS, Android and Windows tablet devices.
Why choose C-Frame?
Enclosures such as the SpacePole C-Frame provide the mounting solution to bring a tablet device to life. The practicalities of using a consumer device in a commercial environment mean that protection and security are both vital elements to be considered. Whilst providing a platform for use, C-Frame secures the device from accidental damage and opportunist theft, and protecting your hardware investment.
At Ergonomic Solutions, we have a proven track record in delivering robust tablet enclosures, stands and mounts that meet and exceed your requirements.
Tablet Point of Sale
Tablet POS is the new good-looking way to have your point of sale stand out from the rest. Combine your tablet with C-Frame and you have a great looking and secure installation. Our mounting solutions enable a second customer facing screen to be added, for those at the till promotions, along with a payment terminal or scanner.
Simple to setup and easy to use
Simply place your tablet and run the cable and you are ready for business within moments. Great cable management ensures that the installation looks neat and professional. The open design of the C-Frame gives access to tablet functions, whilst hiding cables. Removing the tablet to use for other purposes is simple: A hinged backplate and a handwheel or security screw means that this process is quick and easy.
Create it your way
C-Frame is designed to be flexible. We understand that your business has its own individual requirements. You may want to add additional security or rotation for those applications where a customer interaction is needed. Built around this flexibility, SpacePole C-Frame accommodates the mounting of a wide range of peripherals directly on to the frame for one integrated space saving point of sale.
Payments
Comes with the option of side or top mounting bracket for payment devices and scanners.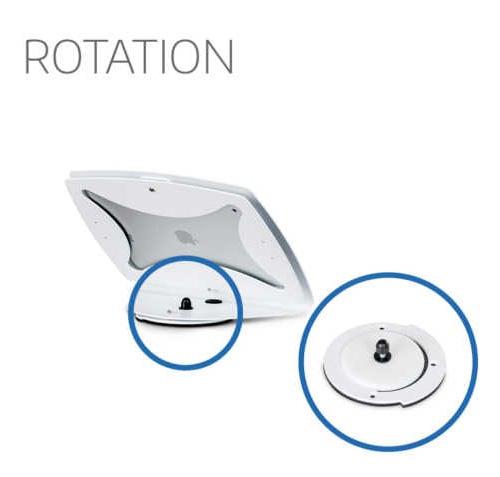 Rotation
A rotation base can be added to enable the screen to be turned through 180 degrees to enhance customer engagement.
Security lock
A Kensington lock can be added for extra security.
Bundles
C-Frame is the perfect flexible mount for tablet POS. With its wealth of accessories C-Frame is the heart of a bundled "Everything in one box" solution for retail or hospitality environments.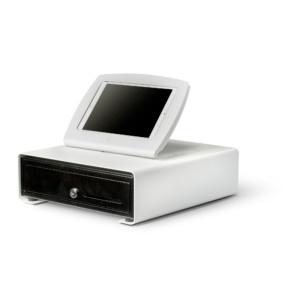 Cash drawer wrap
(APG and STAR compatibility)
A cash drawer solution (APG Vasario 1313 & APG ECD 330 and Star CB2002) helps to protect the drawer as well as providing a secure base for the C-Frame.
STAR mPOP
A special mount is available to create a very neat tablet POS combination featuring SpacePole C-Frame and the Star compact receipt printer and cash drawer combination.
C-Frame Tablet Compatibility
| | | | | |
| --- | --- | --- | --- | --- |
| Apple tablet matrix | Model Number | Year | Size | C-Frame |
| iPad Mini 4 | A2567 (Wi-Fi) A2568 (Wi-Fi + 5G) A2569 (Wi-Fi + 5G | 2015 | 7,9" | SPCF100 |
| iPad Mini 5 | A2133 (Wi-Fi) A2124 (Wi-Fi + 4G) A2126 (Wi-Fi + 4G) | 2019 | 7,9" | SPCF100 |
| iPad Mini 6 | A1538 (Wi-Fi) A1550 (Wi-Fi + 4G) | 2021 | 8,3" | SPCF100 |
| iPad 9,7" (5th Gen) | A1822 (Wi-Fi) A1823 (Wi-Fi + 4G) | 2017 | 9,7" | SPCF300 |
| iPad 9,7" (6th Gen) | A1893 (Wi-Fi) A1954 (Wi-Fi + 4G | 2018 | 9,7" | SPCF300 |
| iPad Air 2 | A1566 (Wi-Fi) A1567 (Wi-Fi + 4G) | 2014 | 9,7" | SPCF300 |
| iPad 10.2" (7th Gen) | A2197 (Wi-Fi) A2200 (Wi-Fi + 4G) A2198 (Wi-Fi + 4G) | 2019 | | SPCF700 |
| iPad 10.2" (8th Gen) | A2270 (Wi-Fi) A2428 (Wi-Fi + 4G) A2429 (Wi-Fi + 4G) A2430 (Wi-Fi + 4G) | 2020 | 10,2" | SPCF700 |
| iPad 10.2" (9th Gen) | A2602 (Wi-Fi) A2604 (Wi-Fi + 5G) A2603 (Wi-Fi + 5G) | 2021 | 10,2" | SPCF700 |
| iPad 10.9" (10th Gen) | A2757 (Wi-Fi + 5G) A2777 (Wi-Fi + 5G) | 2022 | 10,9" | SPCF700 |
| iPad Air 10.5" (3rd Gen) | A2152 (Wi-Fi) A2123 (Wi-Fi + 4G) A2153 (Wi-Fi + 4G | 2019 | 10,5" | SPCF700 |
| iPad Pro 10.5" | A1701 (Wi-Fi) A1709 (Wi-Fi + 4G) | 2017 | 10,5" | SPCF700 |
| iPad Air 10.9" (4th Gen) | A2316 (Wi-Fi) A2324 (Wi-Fi + 4G) A2325 (Wi-Fi + 4G) A2072 (Wi-Fi + 4G) | 2020 | 10,9" | SPCF700 |
| iPad Air 10.9" (5th Gen) | A2588 (Wi-Fi) A2589 (Wi-Fi + 5G) A2591 (Wi-Fi + 5G) | 2022 | 10,9" | SPCF700 |
| iPad Pro 11" (1st Gen) | A1980 (Wi-Fi) A2013 (Wi-Fi + 4G) A1934 (Wi-Fi + 4G) | 2018 | 11" | SPCF700 |
| iPad Pro 11" * (2nd Gen) | A2228 (Wi-Fi) A2068 (Wi-Fi + 4G) A2230 (Wi-Fi + 4G) | 2020 | 11" | SPCF700 |
| iPad Pro 11" * (3th Gen) | A2377 (Wi-Fi) A2459 (Wi-Fi + 5G) A2301 (Wi-Fi + 5G) | 2021 | 11" | SPCF700 |
| iPad Pro 11" * (4th Gen) | A2435 (Wi-Fi + 5G) A2761 (Wi-Fi + 5G) A2762 (Wi-Fi + 5G) | 2022 | 11" | SPCF700 |
| iPad Pro 12.9" (3rd Gen) | A1876 (Wi-Fi) A2014 (Wi-Fi + 4G) A1895 (Wi-Fi + 4G) | 2018 | 12,9" | SPCF700 |
| iPad Pro 12.9" (4th Gen) | A2229 (Wi-Fi) A2069 (Wi-Fi + 4G) A2232 (Wi-Fi + 4G) | 2020 | 12,9" | SPCF700 |
| iPad Pro 12.9" (5th Gen) | A2378 (Wi-Fi) A2461 (Wi-Fi + 5G) A2379 (Wi-Fi + 5G) | 2021 | 12,9" | SPCF700 |
| | | | | |
| --- | --- | --- | --- | --- |
| Samsung tablet matrix | Year | Size | Model | C-Frame |
| Galaxy Tab A 10.1" | 2019 | 10.1" | SM-T510 (Wi-Fi) SM-T515 (LTE) | SPCF800 |
| Galaxy Tab S4 10.5" | 2018 | 10.5" | SM-T830 (Wi-Fi) SM-T835 (LTE) | SPCF900 |
| Galaxy Tab S5E 10.5" | 2019 | 10.5" | SM-T720 (Wi-Fi) SM-T725 (LTE) | SPCF900 |
| Galaxy Tab S6 10.5" | 2019 | 10.5" | SM-T860 (Wi-Fi) SM-T865 (LTE) | SPCF900 |
| Galaxy Tab S6 Lite 10.4" | 2020 | 10.4" | SM-P610 (Wi-Fi) SM-P615 (LTE) | SPCF800 |
| Galaxy Tab S7 11" | 2020 | 11" | SM-T870 (Wi-Fi) SM-T875 (LTE) SM-T876B (LTE/5G) | SPCF200 |
| Galaxy Tab S7+ 12.4" | 2020 | 12.4" | SM-T970 (Wi-Fi) SM-T976B (LTE/5G) | SPCF600 |
| Galaxy Tab S7+ 12.4" FE | 2021 | 12.4" | SM-T730 (Wi-Fi) SM-T733 SM-T736B (FE 5G) | SPCF600 |
| Galaxy Tab A7 10.4" | 2020 | 10.4" | SM-T500 (Wi-Fi) SM-T505 (LTE) | SPCF900 |
| Galaxy Tab A7 LITE 8,7" | 2021 | 8,7" | SM-T220 (Wi-Fi) SM-T225 (LTE) | SPCF400 |
| Galaxy Tab A8 10.5" | 2021 | 10.5" | SM-X200 (Wi-Fi) SM-X205(LTE) | SPCF900 |
| Galaxy Tab S8 11" | 2022 | 11" | SM-X700 (Wi-Fi) SM-X706 (5G) | SPCF200 |
| Galaxy Tab S8+ 12.4" | 2022 | 12.4" | SM-X800 (Wi-Fi) SM-X806 (5G) | SPCF600 |
| Tablet Model | Tablet Release Year | Tablet Size | C-Frame Model |
| --- | --- | --- | --- |
| Surface Go | 2018 | 10" | SPCF700 |
Compatible Payment Devices


Ingenico: iSMP4, Link/2500 series (Standard, slim and touch), Link/2500i
Verifone: e355, e280, e285
Miura: M010, M020
iZettle: iZettle Reader 2
PayPal: Mobile Card Reader
Square: Square reader for magstripe
ID Tech: Shuttle Mobile Audio Plug MagStripe Reader
PayAnywhere: PAR-1 Mobile card reader
MagTeK: uDynamo
Specifications
| | |
| --- | --- |
| Mounting type | Integrated stand |
| Material | Steel |
| Cable Management | Within the frame |
| Installation and set up | 1 x security screw or 1 x handwheel for toolless installation |
Watch how C-Frame can improve your business