Ergonomic Solutions and Samsung
Self-Service & Digital Signage has unlocked a wealth of opportunities for the retail and hospitality industries. Ergonomic Solutions supports Samsung technology with a wide portfolio of products ranging from indoor and outdoor digital signage solutions to kiosk and tablet applications for retail and hospitality.
Digital Signage in retail and hospitality
The Ergonomic Solutions portfolio of mounting solutions for indoor and outdoor standalone signage displays from Samsung offers sleek design, easy mounting and maintenance within a retail-hardened solution to ensure your digital signage messaging can attract shopper attention, maximize upselling potential and avoid solution downtime.
Outdoor signage
Ergonomic solution offers outdoor wind-tested solutions for Samsungs outdoor signage (OHA/OHA-S series) tailored for digital menu boards at QSR drive-thru and outdoor retail promotions.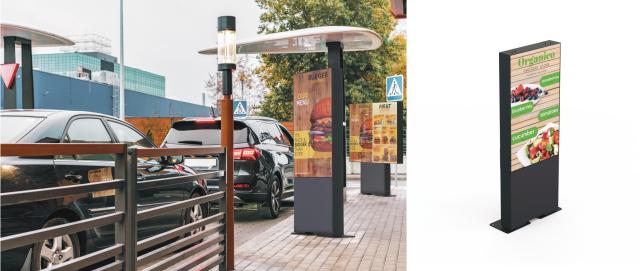 Crystal UHD signage
Specific solutions for digital menu boards and product promotions are designed for the Crystal UHD signage (QHR / QHB / QMB / QBB series) from Samsung. Ergonomic Solutions offers ceiling, wall and pedestal mounted solutions to cater for a wide range of retail and hospitality applications.
Window signage
Ergonomic Solutions have designed a range of products specifically for Samsung's window signage (OMA / OMB / OMN-S series) to enable store-front window advertisement in retail and digital menu boards and promotions for hospitality.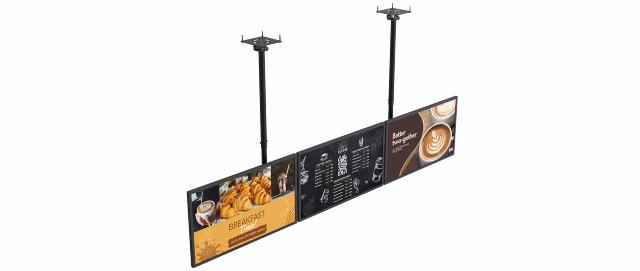 Specialty displays
Ergonomic Solutions has designed specific solutions for the SHR-B series from Samsung to support e.g. in-shelf product promotions and demonstrations in retail and order management solutions in hospitality applications.
Samsung tablets
Ergonomic Solutions portfolio of tablet mounting options for Samsung Galaxy tablets (Galaxy Tab S / Galaxy Tab A series) ranges from simplistic secure mount for digital signage or self service applications to all-in-one mounting units for Point of Sale including printer, payment and scanner options to be added directly on the solution. Ergonomic Solutions also offers mobile / hybrid solutions for mPOS including secure docking and charging of the tablet.
Supported Tablets
Tablet

Display

Year

A-Frame

C-Frame

X-Frame

U-Frame

Dock & Charge

Push-lock

Security screws

EU power plug

UK power plug

Samsung Galaxy Tab A

9.7''

2016

SPAF3000

SPAF3001

SPXF8605

SPUF001

Samsung Galaxy Tab A

10.1''

2016

SPXF12505

SPUF001

SPDC211-EU

SPDC211-UK

Samsung Galaxy Tab A
w/ S-pen

10.1''

2016

SPXF14905

SPUF001

SPDC211-EU

SPDC211-UK

Samsung Galaxy Tab A

10.5''

2018

SPAF1200

SPAF1201

SPCF900

SPXF18805

SPUF001

SPDC211-EU

SPDC211-UK

Samsung Galaxy Tab A

10.1''

2019

SPAF9000

SPAF9001

SPCF800

SPXF19405

SPUF001

SPDC211-EU

SPDC211-UK

Samsung Galaxy Tab S2

9.7''

2015/2017

SPAF3000

SPAF3001

SPCF300

SPXF9905

SPUF001

Samsung Galaxy Tab S3

9.7''

2017

SPAF3000

SPAF3001

SPCF300

SPXF9905

SPUF001

Samsung Galaxy Tab S4

10.5''

2018

SPAF1300

SPAF1301

SPCF900

SPXF18005

SPUF001

SPDC211-EU

SPDC211-UK

Samsung Galaxy Tab S5e

10.5''

2019

SPAF1100

SPAF1101

SPCF900

SPXF19205

SPUF001

SPDC211-EU

SPDC211-UK

Samsung Galaxy Tab S6

10.5''

2019

SPAF1100

SPAF1101

SPCF900

SPXF19205

SPUF001

Samsung Galaxy Tab S6 Lite

10.4''

2020

SPAF1500

SPAF1501

SPCF800

SPXF20905

SPUF001

Samsung Galaxy Tab S7

11.0''

2020

SPAF1700

SPAF1701

SPCF900

SPUF001

Samsung Galaxy Tab S7+

12.4''

2020

SPAF1600

SPAF1601

SPUF001

Samsung Galaxy Tab A7

10.4''

2020

SPAF1400

SPAF1401

SPCF900

SPXF21505

SPUF001

Samsung Galaxy Tab Active 3 no rugged case

8.0''

2020

SPAF1900

SPAF1901

SPXF22305

SPUF001

Samsung Galaxy Tab A8

10.5"

2022

SPAF 2300

SPAF2301

SPCF900

SPXF23105

SPUF001