Ergonomic Solutions and HP
Ergonomic Solutions has partnered with HP to design and manufacture solutions specifically for the HP Engage One Essential, HP Engage Go, HP Engage One Pro POS systems.
SpacePole Essentials
SpacePole Essentials offer an alternative to the HP native mount when you need:
More flexibility and movement
More options for integrating peripheral
To free up counter space
Easy upgrade to existing SpacePole installations
Investment protection for the future
Some products are supplied as HP part numbers, and some are compatible with other SpacePole Essentials mounts to enable you to build a fully customised solution to meet the needs of your business. In addition, it's easy to retrofit to existing SpacePole installations.
HP Engage Go mounted on SpacePole Essentials, including printer plate and scanner mount
SpacePole Kiosk & Signage
Our SpacePole Essentials product range
The SpacePole Kiosk ™ provides a configurable platform for self-service applications in the grocery, retail, hospitality, and entertainment sectors.
We have designed a module which provides an aesthetic and compatible self-service solution specifically for the HP Engage One Pro series and the HP Engage One Essential series with either the Pro VESA Hub or the Essential VESA Hub, and the HP Engage GO with HP Engage Go fixed mount with screen sizes from 12.3" to 23.8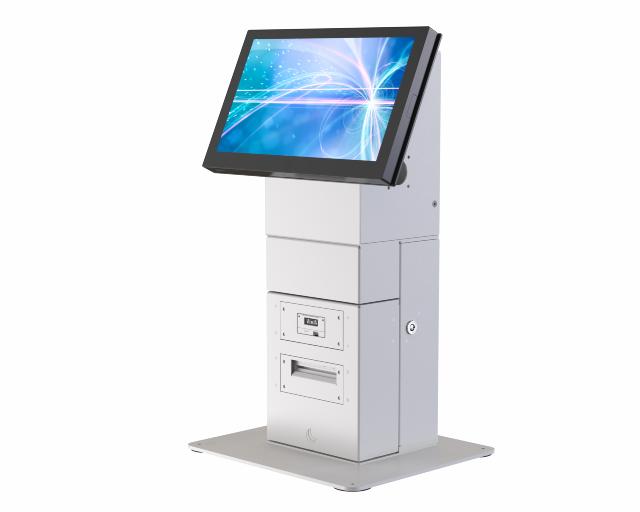 SPK100-HP Counter Mount
SPK100-HP Wall Mount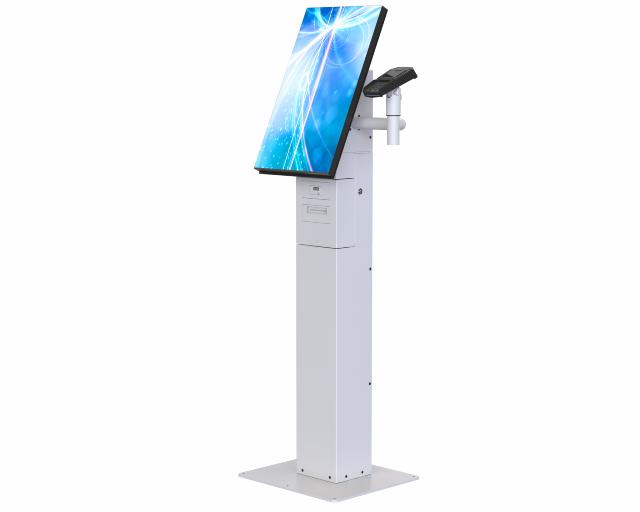 SPK100-HP Floor Mount
Specifications
Kiosk specifications
Wall mount
Wall & Counter mounts
Freestanding
Mandatory
Kiosk top module (SPK100-HP)
Product configurations
Kiosk wall bracket (SPK502)
Kiosk wall bracket (SPK502) for wall mounting
Freestanding module (SPK300)
Kiosk centre module (SPK200, SPK201 or SPK201-HP)
Compatible SpacePole accessories
Kiosk mover (SPK506)
Kiosk printer/scanner covers (SPK5xx)
Kiosk peripheral arm (SPK503), Kiosk Top pole (SPK504), Kiosk straight bracket (SPK511/SPK512)
Compatible hardware
Wall mount
Wall & Counter mounts
Freestanding
Screen / display (VESA 75/75 or 100/100)
HP Engage One Pro series and the HP Engage One Essential series with either the Pro VESA Hub or the Essential VESA Hub, and the HP Engage GO with HP Engage Go fixed mount 12.3" to 23.8"
Payment devices
Any vendor
Printer (Internal or external)
Supports all printer vendors
External: Supports all printer vendors
Internal: Max printer dimensions: H: 140 x W: 133 x D: 140mm
Scanner (Internal or external)
Supports all scanner devices
External: Supports all scanner devices
Internal: Max scanner dimensions: H: 44 x W: 89 x D: 140 mm
Dimensions
Dimensions of SPK100-HP: H: 184 x W: 166 x D: 260 mm
SPK502: H: 228 x W: 178 x D:28 mm
SPK20x: H: 300 x W: 184 x D :166 mm
SPK300: H: 760 x W: 184 x D: 166 mm (Module) H: 30 x W: 450 x D: 400 (Baseplate)
Weight
Weight of SPK100-HP: 4.00 kg | 8.81 lbs
SPK502: 0.8 kg
SPK200: 5.2kg or SPK201: 5.9kg or SPK201-HP: 6.08kg
SPK300: 21 kg
Material
Metal
Cable management
Yes (internal)
Warranty
5 years
ADA compliance
Yes
No